Other


This is the section for all the other stuff in the pics I haven't talked about yet. Well lets see here.

That little white thing with the toilet plunger on it is called Mashimaro and is kinda like a sanrio character and stars in his own comic.

I have a Linksys 8-port Workgroup Switch for networking my desktop and laptop computer together and for sharing the internet connection.

That thing with the red led's on it is a Binary Clock availible at ThinkGeek.com. It's actually pretty fun, you have to think to read the time unless you normally use a base 2 number system rather than a base 10. Anyway, the way to read it is starting from the left, the first two columns are for the hour, the middle two for the minutes and the last two for the seconds. To read the numbers, you need to know binary, which has only two values, 1 or 0 with 1=light on 0=light off. It's rather simple, the first row represents a one, the second a two, the third a four, and the fifth a five. So to get a number out of that you just add the values that are lit up.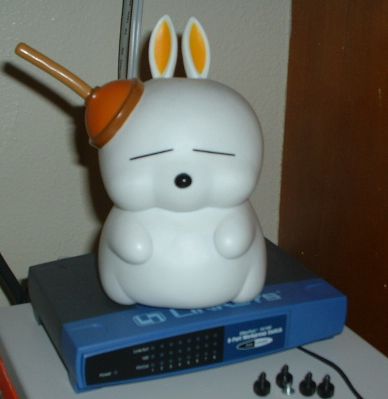 For example, the first picture there shows a time of 10:06:37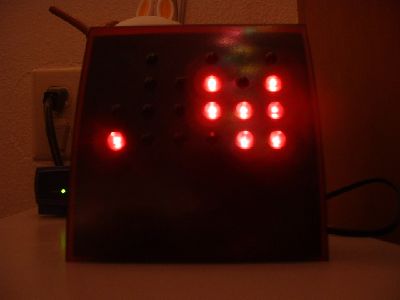 , and the second picture shows a time of 10:06:11.